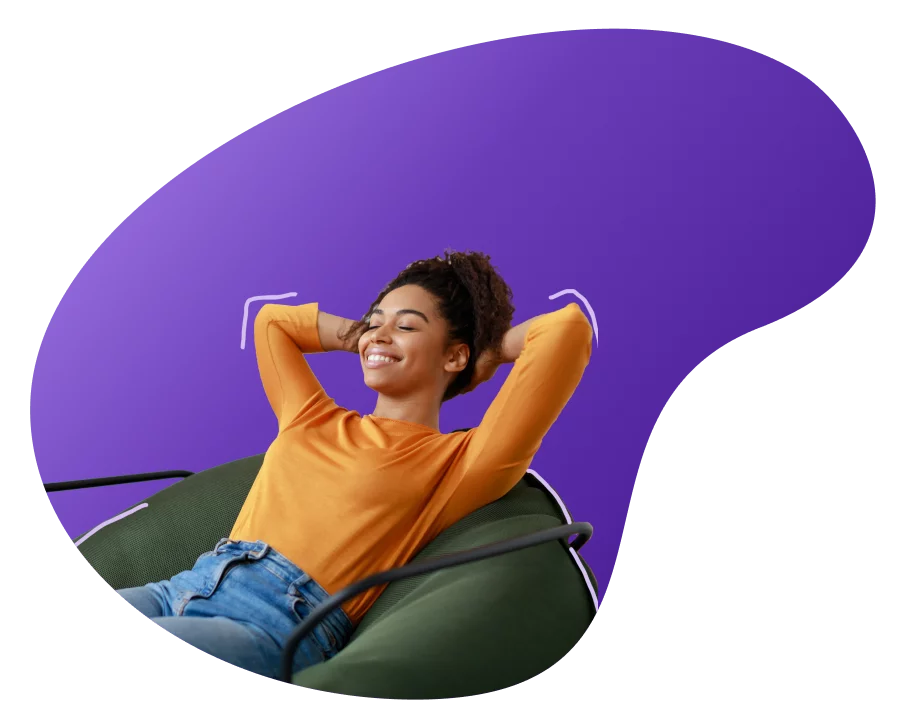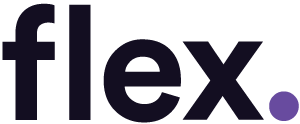 Rent pay, your way.
Split your rent into two worry-free payments! 
TMG has partnered with Flex to provide our residents the ability to pay rent on a flexible schedule that works better for your monthly budget.
1. Pay rent on time

By splitting your rent into two payments, you pay on time, on your schedule.

2. Improve cash flow

Flex allows you to pay over the month, better aligning your rent and finances.

3. Build your credit history

Every payment establishes your payment history, helping you build your future.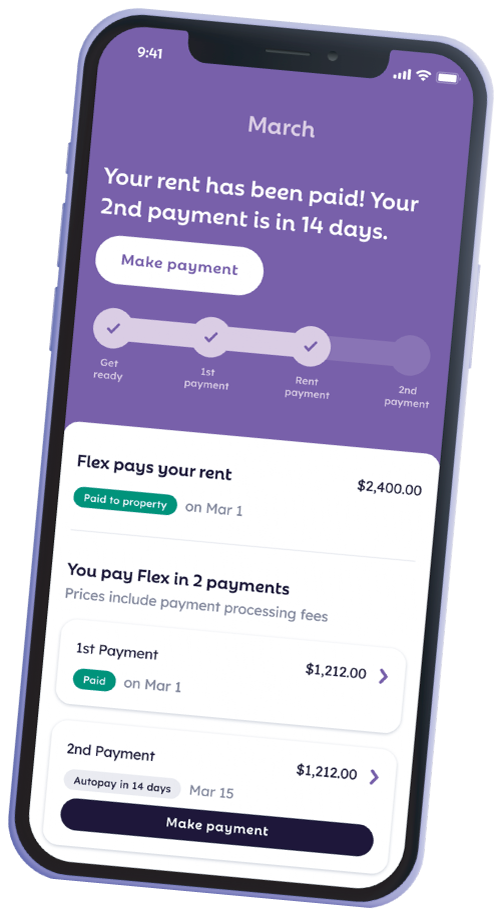 Flex is a monthly subscription services that simplifies rent payments by splitting them into two parts. Every month, Flex ensures that your rent is paid directly to TMG when it's due. You pay a portion of the total rent upfront on the rent due date, and the remaining balance is financed through a Flex credit line.
Flex pays your rent in 4 easy steps:
Step 1: Flex Receives Your Rent Bill. Any additional charges for that month (e.g., utilities) will be included in your bill total.
Step 2: 1st Payment Authorization. Once we know the total bill amount, we authorize funds for your 1st payment.
Step 3. Rent Payment Processed. When your 1st payment is authorized, Flex submits your rent payment. 
Step 4: Your 2nd Payment is Scheduled. On the 15th of the month (or a date of your choosing), Flex collects your 2nd payment, plus your monthly membership fee and any payment processing fees charged.
Flex charges a low monthly membership fee of $14.99. The Blue Ridge Bank Flex Credit Line has 0% APR, no interest charge, no late fees, and no penalty fees.
To be eligible, residents must:
Have no outstanding rent balance.
Have a minimum credit score.
Have a valid debit card that has a history of deposits (no pre-paid cards).
Be a current resident at a property that uses an active resident portal for rent payments (all TMG properties offer this feature).
Have funds in their account to cover the initial payment before the 5th of the month.
During the application process, Flex runs a soft credit check, which does not affect your credit score. As you use Flex over time, on-time payments may help build your credit history and improve your score.
Flex covers the rent for residents between the last day of the prior month through the first 5 days of the month. For certain special circumstanes, Flex will pay on the 4th and 5th.
You can easily cancel your account in the Flex app. Your can also reach out to the Flex support team by emailing help@getflex.com. You can also reactivate your account at any point in the future by contacting the support team.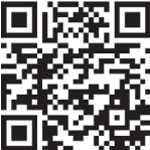 Join hundreds of thousands of renters across the country who are finding more financial flexibility with Flex!
Get more information by visiting getflex.com.