We have a solid reputation helping real estate investors increase their cash flow, stay on top of tenancy laws, and manage rent collection the right way.

We have expert knowledge of the rental markets in the communities we serve.

We have specialized experience in the leasing and management of multifamily and single-family rental properties.

We provide investment expertise for both the experienced real estate investor and beginner investors.

We help mitigate risks, provide proactive solutions, and preserve the value of the asset portfolio, adapting strategies to various market and economic cycles.

We have a proven track record of increasing NOI and maximizing rental value for your property.

We employ a seasoned team of property management professionals who provide unrivaled personal attention to our clients.
SINGLE FAMILY & MULTIFAMILY PROPERTY MANAGEMENT SERVICES
We perform the following essential functions (and many more):
Marketing and advertising your available rentals
Determining the market price for renting units
Screening potential renters and performing background checks
Ensuring that the property owner remains compliant with all local laws and regulations
Collecting security deposits and monthly rent payments
Overseeing regular maintenance requests and repairs (including emergency and after-hours repairs)
Performing regular site visits and inspections; coordinating property maintenance
Full service accounting and accurate reporting
Responding to residents' concerns
If needed, we provide on-site management and maintenance teams for multifamily properties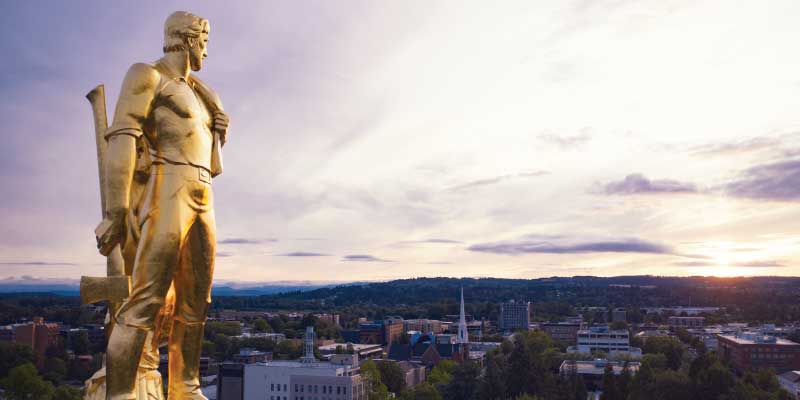 WHAT PEOPLE ARE SAYING ABOUT TMG
We're in the business of making life better for people. Our track record of client retention and resident satisfaction speaks volumes. We can tell you that we know the Portland, Oregon metro area's rental real estate market better than anyone. But the best way to understand what we do is to hear it described by the people we serve!
Why Invest in Salem, Oregon?
Real estate investment has shown year after year to be the best short-term and long-term investment; you can generate cash flow, enjoy tax advantages, as well as increased value through appreciation. It's also a great asset to add for your retirement portfolio.
If you're unsure of how to analyze a potential investment, we are here to help you. Our Salem, Oregon Property Management Team can provide the best financial analysis, marketing plan, risk management, and asset management by using our local expertise and regional experience. Check out our Investor Resources. These resources can apply to single or multifamily properties and are used by most lenders in assessing potential loans for investment properties. Whether you are purchasing your first investment property or adding to your current portfolio, we have the expertise, resources, and connections to help you make the best investment possible. Our Management Team can help you in the due diligence phase of your purchase from inspections, rental and deposit agreement audits, bids for improvements, rental market surveys to project revenue, and budget research to assess potential expenses. While managing your property, we are always on the lookout for ways to increase revenue and reduce expenses. Most of our properties participate in an annual property tax appeal process saving thousands of dollars each tax year.
Let us help you build and maximize your real estate investments!
We love Salem as much as you do - for many reasons!
As the state capital, Salem is steeped in history – from the Capitol building itself to stately homes with storied pasts to Willamette University, the first university in the west. Three historic properties – Bush House Museum, Deepwood Museum and Gardens, and Willamette Heritage Center – as well as the Oregon State Capitol and the Hallie Ford Museum of Art at Willamette University, are located within easy walking distance of one another. 
Salem offers rich culinary diversity with fresh foods and delicious wines. Experience Oregon's capital city through wonderful culture and rich heritage, explore scenic mountains, rivers, and valleys, as well as charming communities.
Salem offers nonstop fun for cyclists on road, dirt trails, or gravel - Minto-Brown Island Park, Willamette Mission State Park, Willamette Valley Scenic Bikeway, Bike Oregon Wine County tours, and more.
The mid-Willamette value is a wonderland of waterfalls and old-growth forests. There are many trails and waterfall hikes to explore these areas - such as the Trail of Ten Falls, the Opal Creek Trail, and the Willamette Mission Trail.
If fishing and rafting are more your speed, check out the wild rivers and wild fishing holes in this area. Near Salem, the mild rapids of the North Santiam River offer plenty of splash and scenery for kayaking and rafting.
Fans of birding are in heaven in this area with the Willamette Valley Birding Trail, the Baskett Slough National Wildlife Refuge, or the Ankeny National Wildlife Refuge.
After your outdoor adventures, indulge in the delicious food and drink this area has to offer. Marion County produces more agricultural products than any other county in Oregon - it's coined the Cherry City for its thriving cherry industry. You'll also find delicious cheese, hazelnuts, berry pies, and other delights, as well as wineries, cidermakers, and craft brewers.
Portland is known for its extraordinary coffee served up at great coffee shops like Stumptown Coffee Roasters, Heart Coffee, Coava Coffee Roasters, the fabulous Floyds, Spella Caffe, Sterling Coffee, Cathedral Coffee, and Tov Coffee & Tea.
We can't forget the unforgettable Portland food carts like Gumba and Matta on Alberta Street and Matts BBQ on Mississippi or Jojo and Holy Trinity BBQ on Powell, along with Kee's Loaded Kitchen, Viking Soul Food, and Baby Blue Woodfired Pizza.
When you've had enough of Portland fabulous food and need to get a little exercise, grab your bike or take advantage of Portland's Bike-Share program. There are so many bike trails both in and around Portland like the Waterfront Loop, the Big Eastside Trail Loop, Eastbank Esplanade, or head to Sauvie Island Farms and pick your own peaches or buy your favorite veggies.
Sports in Oregon are a fun time for any age or activity level. Skiing and snowboarding at Mt. Hood or Mt. Bachelor, golfing at Pumpkin Ridge, Heron Lakes or the Reserve, and kayaking or canoeing on the Columbia and Willamette Rivers.
Our blog features the latest industry news, company news, helpful articles and advice for investors, our residents, and more!
We serve many real estate and rental locations throughout Oregon and Washington.
Some of the Salem, Oregon areas we manage properties in include:
Turner, Keizer, Sublimity, Silverton, Stayton, Jefferson, Mount Angel, Independence, Gervais, Rickreall, Scio, Woodburn, Scotts Mills, Mehama, Crabtree, Dallas, Hubbard, and Amity.