THE OREGONIAN RECOGNIZES TMG AS A TOP WORKPLACE IN OREGON AND SOUTHWESTERN WASHINGTON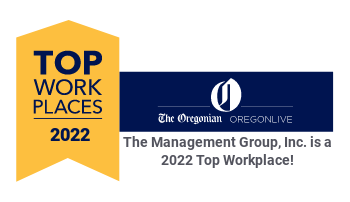 Vancouver, WA (September 24, 2022)
- The Management Group, Inc. (TMG) has been awarded a "Top Workplaces 2022" honor by The Oregonian Top Workplaces. The list is based solely on
employee feedback
gathered through a third-party survey administered by employee engagement technology partner
Energage, LLC
. The anonymous survey uniquely measures 15 culture drivers that are critical to the success of any organization: including alignment, execution, and connection, just to name a few.
"Earning a Top Workplaces award is a badge of honor for companies, especially because it comes authentically from their employees," said Eric Rubino, Energage CEO. "That's something to be proud of. In today's market, leaders must ensure they're allowing employees to have a voice and be heard. That's paramount. Top Workplaces do this, and it pays dividends."
The Top Workplaces survey measures aspects of workplace culture such as employee engagement, confidence in leadership, training and benefits. Scoring well indicates a healthy culture, more engaged employees and better business results. Companies with the highest overall scores in each size category qualify as a top workplace.
Energage surveyed more than 33,000 employees at dozens of companies in the Portland-Metro area, and named 134 winners across small, medium, and large businesses. This is the 11th year that The Oregonian has organized this competition, and the first year that TMG has participated.
ABOUT TMG
Founded in 1985, The Management Group, Inc. (TMG), leads the way in full-service property management across Oregon and Washington with a $410 million portfolio of managed assets. TMG's vision to transform the landscape of property management services in the Pacific Northwest has grown into a family of companies specializing in property management, homeowner association services, maintenance, and home repair. We are driven by a commitment to honor expectations of homeowners, clients, and residents. Our goal is to be with you every step of the way - renting, buying, or selling a home or investment property, managing your HOA, and maintaining your properties.
At TMG, we are proud of our unparalleled company culture that truly sets us apart from the rest. From the moment a new employee starts, we ensure they're given the best training so they're set up for success in their position and offer exceptional ongoing training as they continue to advance in their role and in the company. We are inspired and motivated by growth; we care about our employees and want to help them reach their career goals, whatever they may be. That's why we promote from within and offer unparalleled developmental opportunities along the way.
INTERESTED IN A CAREER AT TMG? CONTACT US TODAY!