What an exciting year! TMG Cares stayed true to its mission of giving back and making a difference in the communities where we live and work. Because of the dedication and generosity of the TMG Family of Companies and its communities partners, we accomplished a lot together.
TMG staff got together throughout the year to volunteer their time to meaningful causes for a total of 169 hours!
April: The finishing touches were completed at OHR home #4, including the installation of an ADA ramp.
May: Oregon Humane Society benefited from staff spending their time socializing the animals in care.
July: Volunteers donated more than just time, when American Red Cross collected 12 units of blood from donors to impact 42 lives. This included 2 first time donors!
August: OHR home #6 was completed over two days, which included landscaping by staff volunteers and the installation of 2 separate ADA ramps outside of the home.
September: The completion of OHR home #7 took place, where staff landscaped up a hill, getting their workout in. The addition of central heating was coordinated right in time for winter. The owner is blown away by the team's generosity and hard work and extends his sincere thank you.
October: The 2nd annual 'Walk a Mile in Their Shoes' shoe drive was held. TMG Staff and multi-family residents came together to support local foster children and teens with the much-needed shoes for their daily lives.
November: The team got together to walk in Vancouver's Veterans Day Parade to honor local veterans and promote Operation Home Rescue services. The focus was switched to ramp up Elf Squad to support local foster children in care with a shopping trip for gifts.
December: Elf Squad continued the effort of purchasing toys, necessities and fulfilling wish lists for local foster children. The Wrap Party brought folks together to make the gifts look festive for delivery. 
2022 Success Highlights:
Operation Home Rescue received a grant from the Cowlitz Tribal Foundation to ensure future veterans will be served.
$15,478 in funds were donated to activities like Operation Home Rescue, Elf Squad, and the "Walk a Mile in Their Shoes" shoe drive.
169 hours were donated by staff to support Oregon Humane Society, American Red Cross, Operation Home Rescue, Vancouver's Veterans Day Parade, and Elf Squad.
12 units of blood were donated to impact 42 lives!
2 Operation Home Rescue homes were completed in partnership with TMG Maintenance and local vendors.
68 brand new pairs of shoes were donated to support the "Walk a Mile in Their Shoes" shoe drive, benefiting local foster children ages toddler – 19, through Project 48, Bridge the Gap, and Mo's Place.
167 Holiday Wish Lists were fulfilled, which benefited local foster children and children in need through Project 48 and Bridge the Gap.
2 Multifamily Properties and their residents contributed 32 of the Wish List gifts to support children living in 2 Vancouver area SHARE homeless shelters.
As we begin 2023, TMG Cares looks to keep that giving spirit alive by exceeding 2022's accomplishments and expanding our reach!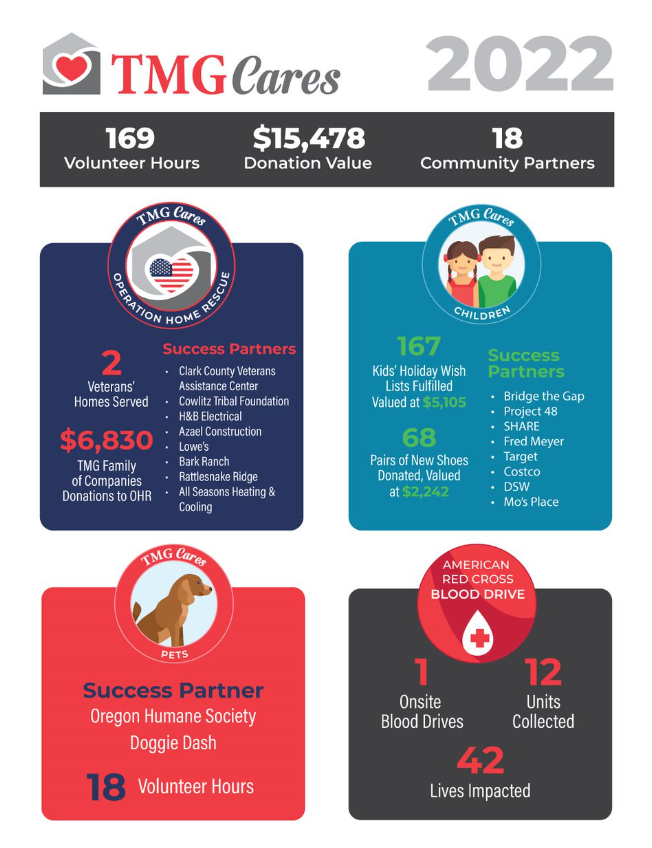 About TMG Cares
At TMG, we understand the importance of giving back and making a difference in our communities. Each year, employees select a few charities to support through TMG Cares. TMG Cares is a 501(c)(3) charitable organization, which means donations are tax deductible.