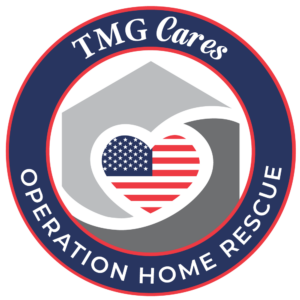 Vancouver, WA (March 23, 2021) — Applications are now open for Operation Home Rescue, a program to assist veterans aged 55 and older who are physically unable or cannot afford to carry out their home maintenance needs. Participants in Operation Home Rescue can receive a variety of home maintenance services performed at no cost, such as landscaping, minor repairs, and cleaning.
Operation Home Rescue is administered and funded by TMG Cares, the non-profit division of The TMG Family of Companies, in partnership with the Clark County Veteran's Assistance Center (CCVAC). Interested veterans may contact the CCVAC now through March 31st to determine eligibility and apply. TMG Cares will be selecting a handful of recipients throughout the months of March and April, and the first round of repairs will occur in May 2021.
CLARK COUNTY VETERANS ASSISTANCE CENTER
1305 Columbia Street
Vancouver, WA 98660
Tel. (564) 397-8478
Email: ccvac@ccvac.net
Website: https://ccvac.net
ABOUT TMG CARES:
For more information about Operation Home Rescue, please contact Jennifer Lindsay, TMG Cares Engagement Coordinator, at (360) 891-8040 or tmgcares@tmgnorthwest.com. To learn more about TMG Cares and the community work that the TMG Family of Companies does, visit TMGCares.com.
ABOUT TMG:
TMG Property Management Services NW (TMG) is the Northwest's most experienced and trusted multifamily property management company. We provide a full suite of management services for every type of investment property, including apartments, condominiums, townhomes, plexes, new developments, mixed-use, and lease-ups. TMG partners with investors to proactively identify strategic opportunities and maximize their return on investment. Locally owned and regionally focused, TMG has been helping clients reach their financial goals for more than 30 years.
The TMG Family of Companies includes multifamily property management, single family property management, home maintenance, and home sales. TMG's sister company, Association Management Services (AMS), also provides HOA management services. Headquartered in Vancouver, Washington, TMG also has offices located in Portland, Oregon, and in Tri-Cities, Washington.
For more information about The TMG Family of Companies contact Kristen Bennett, Senior Marketing and Communications Manager, at 360-397-0274 or visit https://tmgnorthwest.com/.