People enter the rental property business for many different reasons. Maybe you're an "accidental landlord" who decided to rent out your former residence, or you gained a property through an inheritance. Or, maybe you diligently researched properties for sale and chose to purchase one (or more) as an extra source of income. Regardless of how or why you entered the business, managing your rental property can be a profitable endeavor — or a costly one if you stumble into some common pitfalls.

Successful landlords leverage skills from many different areas, including customer service, marketing, accounting and home repair. Reduce the risks that come with being a landlord by avoiding these "seven deadly sins" of managing your rental property:
1) Disregarding the Importance of Marketing
No matter how impressive your property is, you still need to put your best marketing foot forward to get it rented quickly. Using the dozens of property listing sites available will help get make your property available, but you'll need to be strategic to get noticed. You might think that a title and a property description are less important than quality photos, but the truth is that every single detail counts. Make sure to come up with a catchy title that highlights your property's advantages, use accurate, colorful descriptions, and remember to add some quality images that showcase your rental's best attributes.
2) Failing to Properly Screen Tenants
While speed is important in filling your vacancy, you still want to end up with a qualified renter. The worst thing you can do as a landlord is fail to screen your tenants before signing a lease agreement. As anxious as you may be to get a tenant into the property and paying rent, rushing ahead without checking your tenant's credentials might lead to an array of problems. Things are not always as they seem, and the most easy-going and friendly applicants will not necessarily make the best tenants.
The smartest approach you can take is to perform a thorough tenant screening. Obtain a credit report to check on a history of late payments, delinquent accounts, etc., and take the time to verify references, including employers and former landlords. You need to make sure that your prospective tenant is a financially reliable person who will pay rent on time and keep your property clean and safe. From there, you can make an informed decision as to whether or not you should rent the property to that individual.
3) Using Flawed Lease Agreements
A lease serves as a binding, legal agreement between you and the tenant. As such, you'll want to make sure it thoroughly addresses the rules, policies, conflict resolution procedures for living at your property, and clearly defines tenant and landlord responsibilities. Remember to put everything down in writing — a handshake or verbal agreement won't hold up in court. You can find many generic leases online, but have it examined by a legal professional to make sure it complies with local and federal laws. Quality lease agreements should address carefully written move-in and move-out procedures, including details about deposits, timley rent payments, care of the property, pets, noise, and partying. It's human nature to get a little too relaxed when rules aren't firm, so make sure the expectations are established, in writing, from the beginning.

And remember: it's up to you (and only you) as the landlord to enforce those terms; failing to do so sets a bad precedent. Landlords must walk a thin line between being friendly and being too lenient. Those who aren't firm enough may find themselves in constant conflict with their tenants.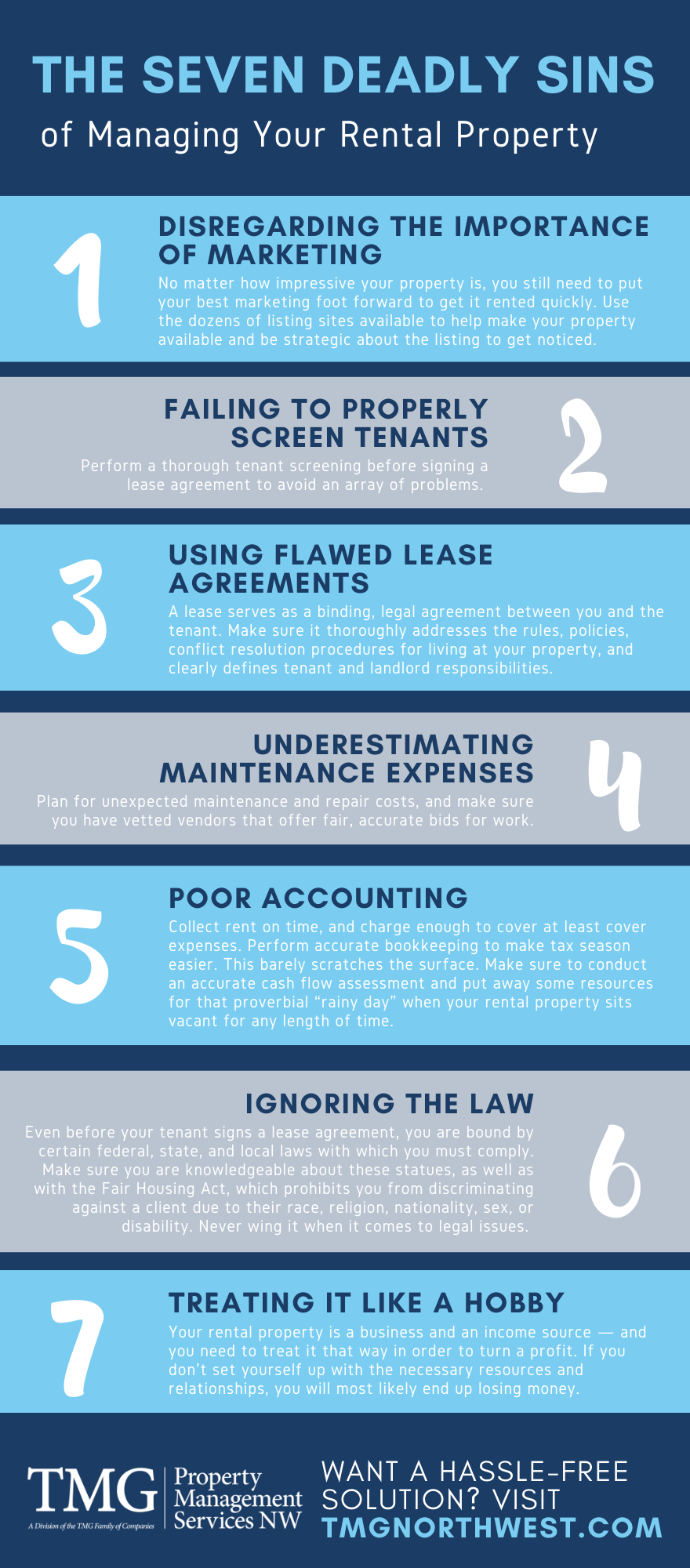 4) Underestimating Maintenance Expenses
When your tenants ask you to fix something, it is crucial for you to reply quickly. Ignoring such requests is one of the biggest mistakes you can make as a landlord. In fact, there are state and local laws that obligate landlords to deal with maintenance requests within a certain timeframe. Plus, there are local building codes meant to regulate adherence to safety standards. What's more, you have an ethical responsibility to provide your tenants with comfortable and secure living conditions.
Despite this, many rental owners have no system in place for maintenance and repairs and are often caught unprepared for maintenance expenses. When a tenant reports a problem or an inspection turns something up, they simply call the latest "go-to" service vendor—sometimes, without even getting bids—when a better price might be attained.
Maintenance and repairs are an inevitable part of any rental process, so you should always have some extra money to cover them. Keep in mind that usually things break suddenly, and you are expected to make fixes and repairs within a short timeframe.
5) Poor Accounting
The basics of rental property accounting is to ensure that rent is collected on time and standard expenses are covered. This also includes proper bookkeeping so when tax season comes, all the necessary records and documents are in order. However, this is only the start of quality accounting.

Many landlords make mistakes in their accounting because they assume their rental property will be making a steady and constant income. Unfortunately, if a property becomes vacant for even a month, it can have a drastic impact. Don't make this mistake. Before closing on a property, do your own financial due diligence and ensure that you can pay the mortgage (if you're taking on a loan) in the event that you have months with no incoming rent. Conduct an accurate cash flow assessment and put away some resources for that proverbial "rainy day" when your rental property sits vacant for any length of time.
6) Ignoring the Law
Even before your tenant signs a lease agreement, you are bound by certain federal, state, and local laws with which you must comply. But too many landlords are not knowledgeable in these statutes, and they can find themselves in legal hot water. For starters, you must comply with the Fair Housing Act, which prohibits you from discriminating against a client due to their race, religion, nationality, sex, or disability.
Once you have a tenant living in your property, there are other protocols and procedures that you must abide by, covering topics like rent collection and proper storage of a security deposit, times when you are allowed to enter a unit, walking in unannounced, and the legal procedures for eviction. All of these are important facets of the landlord-tenant agreement and violating any of them could result in a legal proceeding against you.
Never wing it when it comes to legal issues. Make sure that all of your documents and processes fall within the law, and you'll greatly reduce the risk of ending up in front of a judge.
7) Treating it as a Hobby
However you got into landlording, your rental property is a business and an income source — and you need to treat it that way in order to turn a profit. That means establishing separate bank accounts for deposits and expenses, using a bookkeeping system, and consulting a tax professional to ensure you are correctly handling (and paying!) taxes on your business. Document all of your procedures and communications with applicants and tenants, and make sure to stick to your procedures. If you don't set yourself up with the necessary resources and relationships, you will most likely end up losing money.
If you are unsure about how to successfully start your career as a landlord, or fear that you may not have the time necessary to perform the job well, consider working with a professional property management company like TMG Property Management Services NW. We've been in the business for over 30 years and are experts in the industry. We have established procedures for marketing your property, screening applicants, and protecting your investment. Our top-notch property managers and in-house maintenance and accounting teams take the hassle out of managing your investment.
Contact our Property Management Specialists
Get a No-Obligation Quote and a FREE Rental Analysis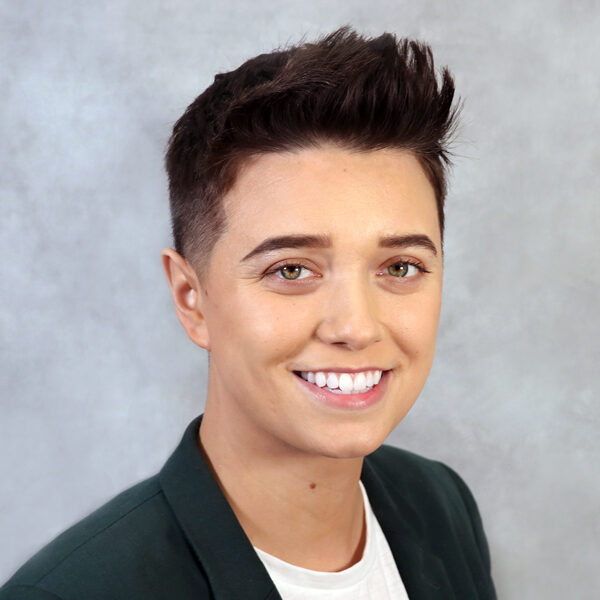 Michelle Villarma
Business Development Manager
Oregon & Washington