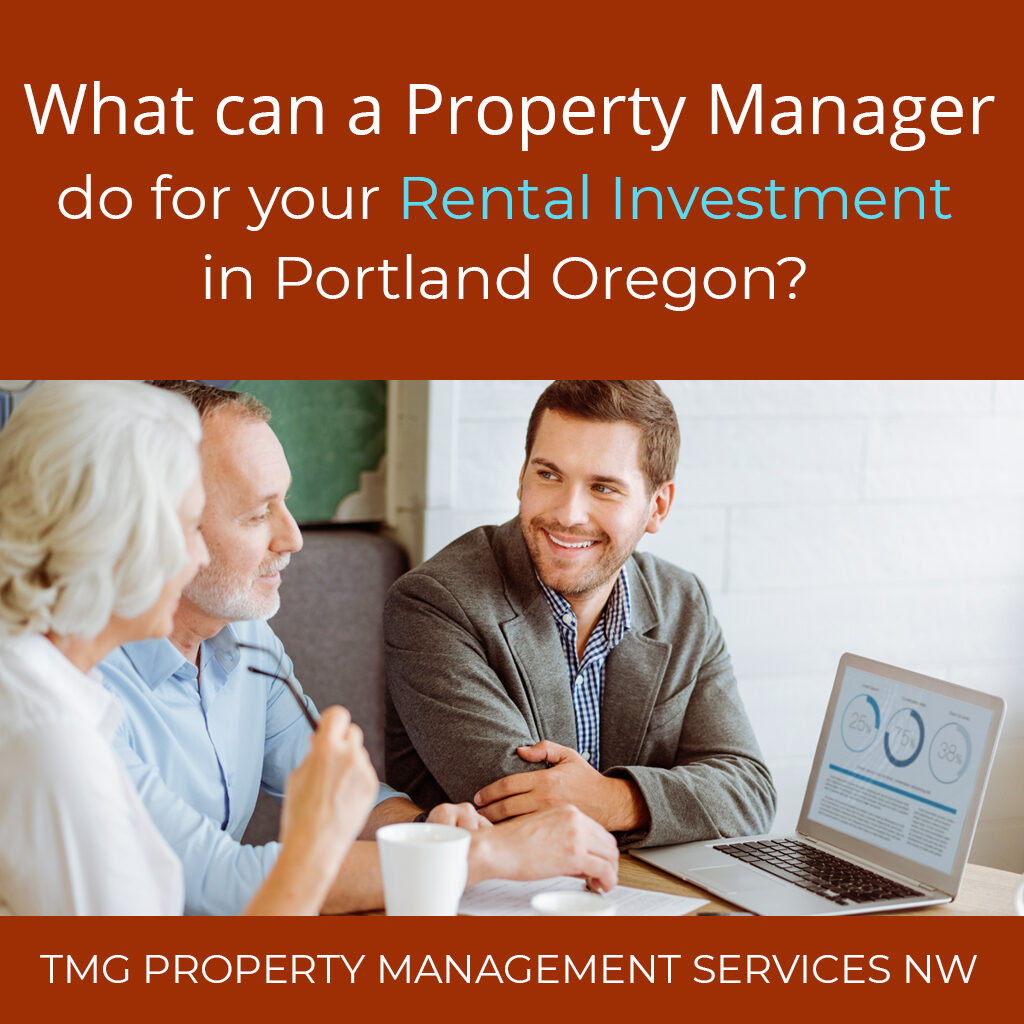 If you own a single-home rental or multifamily properties in Portland, Oregon, hiring the right property manager can have a big impact on how your investment property performs.
Property Managers oversee the day-to-day operations of the property and preserve the value of the property while generating income. On the surface, this means filling vacancies, leasing, and collecting rent for a property owner. With most management fees between 8%-12% of gross rent for single family properties, and between 3%-5% for multifamily properties, you may be wondering if the cost is worth it.
To answer this, one needs to understand the full scope of responsibilities of a property manager and an additional level of expertise, which is called asset management. Not all property managers have the local market knowledge of the Portland rentals market, professional skills, and investor-focused aptitude to provide a fully-integrated property management service that can help real estate investors increase their cash flow and maximize ROI of each property in their portfolio. Hiring a property manager that can also help with asset management makes a big difference.
What Does a Property Manager Do?
Property Managers involve the management of rent, tenants, property maintenance, repairs, owners, landlord-tenant laws, business operations, property records, accounting, and taxes. Below we will discuss each area of responsibility to fully understand their impact.
Rent
Property Managers assist owners with setting the right rent amount based on rental comps and market trends. Rental comps will be analyzed based on location, rent, property market value, rent per square foot, size of property, number of bedrooms, number of bathrooms, parking, appliances, pet policy, lot size, landscaping, construction date, condition, recent upgrades or improvements, on-site amenities, and also community amenities. View the latest on the City of Portland Oregon's rent prices via Zumper. You may request a free Rental Analysis from TMG by submitting this form.
TMG's Property Managers in Portland, Oregon are familiar with rent prices in the area. They understand how to evaluate a property's features to find the best rent price that will help an owner capitalize on their investment and ensure it is always occupied.
Aside from setting the rent, property managers are also responsible for collecting rent and raising rent (if needed to keep up with the market). Property managers create a policy for collecting rent from tenants that can include personal checks, online payments, certified funds, or cash that is mailed, dropped off at a secure location, or picked up in person. Rent collection comes down to which method results in the highest portion of prompt payments with the least amount of effort from both management and tenants. A property manager will also deal with late payments, unpaid rent, and the process of evicting a tenant due to non-payment of rent.
Property managers will facilitate legal and appropriate communication with tenants regarding rent increases. They will advise owners on the pros and cons of increasing rental prices in order to match market rates, to pay for property maintenance or improvements, to accommodate tax increases, or to increase profits. Please note that Oregon has passed increased relocation assistance protections for renters with rent increases as of September 17, 2020.
Tenants

One of the primary responsibilities of a property manager includes all tenant-related issues including finding and screening applicants, communicating, and enforcing lease terms, managing complaints, dealing with bad tenants and proper handling of tenant funds.
Finding tenants: A property manager provides the necessary support to market vacant properties in order to find the most qualified tenant for the property. A vacant property is always bad news for an owner, and a manager works hard to get the property rented as quickly as possible to a qualified tenant. They will post For Rent signs, update online rental advertisements, host open houses, and communicate with current tenants for qualified referrals.
Screening tenants: A manager will enforce the owner's requirements for finding a qualified tenant who will pay rent on time, follow lease terms, and take care of the property by performing legal tenant screening. Legal tenant screening includes evaluating objective qualification criteria like reliable income, employment verification, credit check, criminal background, and positive rental history.
Enforcing lease terms: A manager will review important lease terms with tenants during the lease signing process prior to residency. A manager will communicate appropriately with the tenants if any violations occur and enforce the consequences during the lease term. The lease agreement should include a policy for how the manager will handle rule-breaking behavior and the consequences for any violations and repeat offenders. A violation may incur a fine, null the contract, or be grounds for eviction.
Managing Complaints: Deemed as one of the biggest headaches of property management, dealing with tenant complaints can take up a lot of time and energy. A complaining tenant may be voicing concerns about property maintenance or other community-related issues regarding tenants or neighbors. A property manager may require tenants to submit written notifications through email correspondence or an online tenant portal.
Evictions: Even the best tenant screening can cause a few bad apples to slip through the cracks, leaving a property manager to deal with the legal side of asking a tenant to move out. Evictions are an incredibly lengthy process, and the right property manager will know the correct steps to take to make sure everything is handled appropriately. If the proper legal steps leading up to an eviction are not followed, the lawsuit could be dismissed in court, resulting in wasted time and money.
Tenant Funds: A property manager collects rent payments and additional fees charged to tenants (like late fees, pet fees, etc.) and is responsible for distributing them to the owner or business accordingly. A property manager must follow federal and state requirements regarding trust accounting and tenant security deposits.
Rental Property
Property managers are charged with the responsibility of the physical management of the rental property in regards to maintenance and repairs, in order to ensure the property remains in livable condition for current tenants, and attractive, rent-ready condition for future tenants.
Maintenance: Property managers will perform routine and preventive maintenance for the owner to make sure the property remains in great condition. Managers will perform maintenance tasks personally, via onsite management, or hire a vendor to perform the job. Maintenance can include landscape duties, HVAC servicing, exterior cleaning, animal proofing, gutter cleaning, etc.
Repairs: Should the property require any home repairs, a manager will communicate the issue with the owner and schedule repairs pending approval. Common property management repairs include plumbing and HVAC system repairs, broken railings, common area light bulb replacement, etc. Needed repairs can be discovered by management during an inspection or brought to the manager's attention by a tenant.
Inspections: A property manager will conduct regular inspections of the rental unit to identify any maintenance issues that need to be fixed before they become expensive repairs and to ensure compliance with tenant required maintenance. Rental property inspections may include move-in/move-out inspections, seasonal inspections, and drive-by inspections.
Turnover: Tenant turnover involves getting a property restored to rent-ready condition in between lease terms, collecting keys and leased property, and refunding the past tenant's security deposit. A property manager will enforce move-out dates and charge a tenant accordingly if he has not vacated the unit on the agreed-upon date and time. The vacated unit has to be inspected, cleaned and restored back to the condition it was at the start of the prior lease term. If the property owner wants to make additional improvements to the unit during the time, the manager can help coordinate and oversee the property maintenance.
Rental Property Owners
Property managers work directly with the rental property owners they serve and must communicate relevant information with regards to property performance, owner funds, and legal issues.
Owner Communication: Owners want to be informed about the performance of their investment property. Property managers must actively communicate vacancy rates, income, and expenses related to the property, maintenance requirements, business policies, and any legal issues related to the property. Property managers may choose to email, call or provide online access to a property performance portal, sometimes referred to as an Owner Portal. Property managers may also advise owners about legal issues, setting rental rates, raising rent prices, or performing property maintenance/repairs.
Owner funds:  Owner funds are usually considered rent payments collected by a property manager from a tenant that is then disbursed to the property owner. In order to properly (and legally) handle owner funds, a property manager must understand the basic principles of trust accounting. Trust accounts for property managers are typically used to keep tenant deposits and rent payments separate from operating capital. A property manager must keep owner funds separate from operating capital and follow state guidelines on the timeline required to deposit owner funds.
Landlord-Tenant Laws
One of the benefits of working with a property manager is their experience and knowledge of landlord-tenant laws. Many states require property managers to acquire proper licenses in order to legally manage rental properties, which includes education on landlord-tenant laws. A property manager will also assume responsibility for ensuring compliance with legal terms of a landlord-tenant relationship. Working with a property manager allows an owner to let the "landlord" role of the landlord-tenant relationship fall on the manager. Although a lot of legal issues will be deferred to the management company, the owner will not avoid all legal responsibilities and should review the risks with their property manager and attorney.
Federal Landlord-Tenant Laws: The major federal laws that affect all landlords and property managers are the Fair Housing Act and the Fair Credit Reporting Act. The Fair Housing Act prohibits discrimination due to race, color, national origin, religion, sex familial status, or disability. The Fair Credit Reporting Act dictates the ways in which a property manager may use a tenant's credit history for screening purposes.
States Rental Laws: State regulations regarding rental properties and tenant rights typically concern practical matters. These include things like the rights and responsibilities of tenants and managers, what terms and conditions can be set as part of a lease, lease termination guidelines, and how evictions must be handled. State laws can also dictate how much can be charged for security deposits, how those funds can legally be handled, and how property managers must use trust accounts for rental income.
Portland Property Managers 
To provide the best services to owners and tenants in the Portland Metro area, a property manager must also run a professional business that follows federal and state requirements for managing rental properties including acquiring proper licensing, maintaining records, obtaining insurance, working with quality vendors, and paying taxes.
Property Management Licenses: Most property managers must hold a property management license or a real estate broker's license in order to conduct real estate transactions related to managing and leasing rental properties. Only a couple of states do not have this requirement. Property management licenses and real estate broker licenses are granted by state governments, real estate boards, or local authorities in the state where a manager conducts real estate transactions.
Property Records and Accounting: A property manager should keep thorough records regarding the property, owners, and tenants. This should include all income and expenses; list of all inspections, signed leases, maintenance requests, any complaints, records of repairs, costs of repairs, maintenance costs, record of rent collection, and insurance costs.
Insurance: Lawsuits related to this industry are common, and failure to have the proper protection in place can leave a property manager's business exposed to unnecessary risk. Property managers need to have insurance that covers their business, their clients, their tenants and the properties they manage. A well-designed insurance policy will protect managers from liability claims, legal proceedings specific to the industry, and losses caused by perils, like fire, vandalism or burglary.
Vendor Management: Property managers rely on vendors for a variety of services from repairs during tenancy and turnover to routine maintenance and business tasks. Every property manager should have a list of approved vendors ready before they are needed. Property managers are particularly susceptible to blame by property owners for faulty vendor workmanship or inappropriate vendor behavior. Vendor screening should be included as part of your standard operating procedures and implemented to increase your company's value, provide an established value-added service to tenants and owners and protect your rental business from liability.
Taxes: Beyond personal and business taxes a property manager will file for themselves, they can assist the property owner with understanding how to file taxes for the investment property or assume responsibility for filing taxes for the property for the owner. Additionally, the IRS requires that property managers file 1099-MISC tax documents regarding any unincorporated vendor that has been paid more than $600 in the calendar year, which includes most of the independent contractors used for property maintenance and repairs.
The Investment
Property Managers who can provide real estate investors an end-to-end solution from analyzing a potential investment, to providing financial analysis, risk management, and asset management will be crucial to an investor's success. Here are these services in detail:
Asset Management:  This involves a comprehensive market analysis to achieve maximum rents, Risk management, including in-depth real estate assessment and insurance review;
Assisting owners and developers in matching tenant demand with optimal property design; Strategic marketing plans to minimize marketing costs and rent loss during new lease-ups or re-tenanting after rehabilitations or renovations; Valuation and proformas for investors help determine the financial feasibility of a propose property, or a potential purchase; and Repositioning poorly performing assets and developing potential transactional strategies for investors.

What TMG Property Management Services NW Offers Portland Real Estate Investors
TMG's Portland, Oregon Property Management Team can provide the best financial analysis, marketing plan, risk management, and asset management by using its local expertise, and regional experience.
Learn more about TMG's Single-Family residential property & multifamily property services (for either one or multiple properties):
TMG provides a world-class, standard-setting, multifamily property management solution. Our staff is laser-focused on keeping your tenants happy while securing the biggest return on your investment properties.
We offer a broad range of services for single family property management, all aimed at getting the highest return from your investment and freeing up your time and energy.
Contact our Portland Business Specialist:
Michelle Villarma
New Business Specialist
(503) 858-1224
(360) 397-0325
Text (360) 869-2995
michelle.villarma@tmgnorthwest.com
Areas We Serve
Happy Valley
Lake Oswego
West Linn
Oregon City
and More!