Rents have risen over 9% for single family homes over the past year, and they're not done rising.
An article shared by the National Association of Residential Property Managers (NARPM) in their Weekly NARPM News Brief "Should Single-Family Landlords Raise Rent to Keep Up With Inflation? 4 Considerations" raises the question of whether or not landlords should increase rents, and what factors play into the decision. Before landlords jump to raising rents, however, they should consider the following circumstances:
Your Expenses: What are you currently charging for rent? While a landlord's fixed expenses go up each year, and it is good practice to include a rent increase at each lease renewal period (assuming you aren't subject to rent control laws), it is usually best to raise the rent by no more than 2% - 5% per year.
Current Market Rent Rates: If you haven't been raising the rent on an annual basis, you may find that you're charging well below the market rate. Rather than spring for a massive rent increase, which would likely incentivise tenants to leave, a better course of action would be to gradually raise the rent at each renewal period until you're receiving closer to the market rate.
The Property's Condition: Does your property warrant top dollar? It may be time to schedule a walk-through to find out. If your property is in good condition and in a desirable area that's close to amenities with good schools, low crime, and little competition, you should probably be getting top dollar. On the other hand, if your property will require a lot of maintenance to improve its condition, or if it is significantly dated, it may not warrant an increase. Does it make more sense to keep a reliable tenant who pays less than market rate, or to sink a good amount of money into the unit and potentially have to find and screen new tenants?
Your Tenants: Having long-term tenants who pay the rent on time every month and take care of the property is worth something. If you substantially raise rent, you may risk losing steady, quality tenants.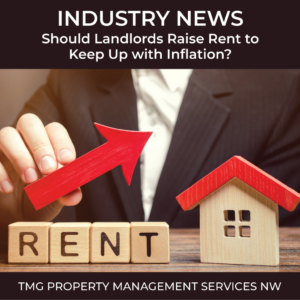 See how partnering with TMG can increase your bottom line and reduce your stress.